Lviv – once a multicultural city of the Polish-Lithuanian Commonwealth. In the past, one of the most important centers of science, education and Polish culture. Today, a city in western Ukraine. A city where the east meets with the west.
Everyone can find something for themselves here. Alleys full of historical value, the old Catholic and Orthodox churches. Countless number of themed cafes and bars in which we move to other worlds. The prices and value of the Ukrainian currency – the hryvnia, makes even the average Pole will feel rich in Lviv. For some people, Lviv is what Krakow is for British tourists – a cheap place for bachelor parties.
Widget not in any sidebars
Polarsteps relation
The route we have traveled, step by step, you can see in the Polarsteps app:
Getting to Lviv
Airplane
From central and western Poland. it's best to go by plane. LOT airlines offer tickets from PLN 100 (23 EUR) each way, and low-cost airlines may be cheaper in low season. The time of direct flight is about 1 hour. We paid a total of 153 EUR for two-way flights with Ukrainian airlines (UIA) via Kiev at a convenient date for us: August's weekend 17-19. Our whole trip lasted 4 hours, including one and a half hour transfer in Kiev.
How to get from Airport to Lviv center
The airport is located about 11 km from the center of Lviv and theoretically, there are bus no. 48 (on Ukrainian buses are called marshrutkas) and trolleybus No. 9, which can get to the center of Lviv. Why theoretically? We could not catch them in either direction, despite the fact that they should drive according to schedules. But if you succeed, you pay only 5 UAH for a ticket to the center (which is 0.15 EUR at the current rate). You can easily buy a ticket from the driver.
We took advantage of Uber and paid for a course to the center: 95 UAH (3 EUR).
(PS. On the way back during the stopover at the Kiev airport you can buy 1L of Nemiroff vodka for only 4 EUR)
Bus and train
4h in a plane is definitely better than traveling by bus. One-way international bus lines from Warsaw take 8 hours and the return journey takes up to 13 hours.
The cheapest alternative is to reach Przemyśl, eg by train. Hence a small bus for a few zlotys to the border, which you will cross on foot, and then catch marshrutka to Lviv.
Accommodation
In Lviv, it is best to spend the night just next to the market. Unfortunately, the apartments recommended by our friends were unavailable in the chosen date. So our choice fell on the Cossacks Hostel, where for a doubl room for 2 nights we paid 1280 UAH (40 EUR)
What to do in Lviv?
Eat and drink! Though not only. Our weekend trip was based on walking from restaurants through cafes to bars, connecting the monuments around the market on the way. There are a lot of Lviv's various restaurants and it is impossible to visit all of them in one weekend. That is why I will present here only a small section of the gastronomic offer and other attractions of Lviv that we have been able to see. (In the order that we visited them).

Beer Theatre "Pravda"
We came to Lviv late and wanted to eat something, so the first place we visited was the Beer Theater "Pravda" – a local brewery. The restaurant occupies three floors of the building at the market square. On the ground floor, there is a pub and dance floor, on the 2nd floor there is a scene visible from each floor and tables on the third only tables. There are live concerts on the weekend.
We paid 478 UAH (15 EUR) for dinner for 2 people and two large beers (0.75L). It was strange for me that in Lviv you get 2 bills. One for food and the other for alcohol. Both are paid separately.
Atlas Restaurant
We started the next day with breakfast in the Atlas Restaurant. A very atmospheric place located at Rynek 45. While the history of Lviv is being rewritten, sometimes not entirely true, on the walls of the Atlas you can see postcards and paintings of old Lviv, testifying to the Polish history of the city. For breakfast, we paid 270 UAH (8.50 EUR).
City Square
As we are already at the market, it has a rectangular plan, and from each corner, two streets come out. In the middle of the square there is a town hall with a tower that you can enter, and at its corners, there are fountains depicting mythological figures: Neptune, Diana, Amphitrite and Adonis. The market over the centuries hosted, among others, King Władysław Jagiełło and Marshal Józef Piłsudski.

Potocki Palace
After breakfast, leave the center for a moment to view the palace, which was built for Alfred Józef Potocki.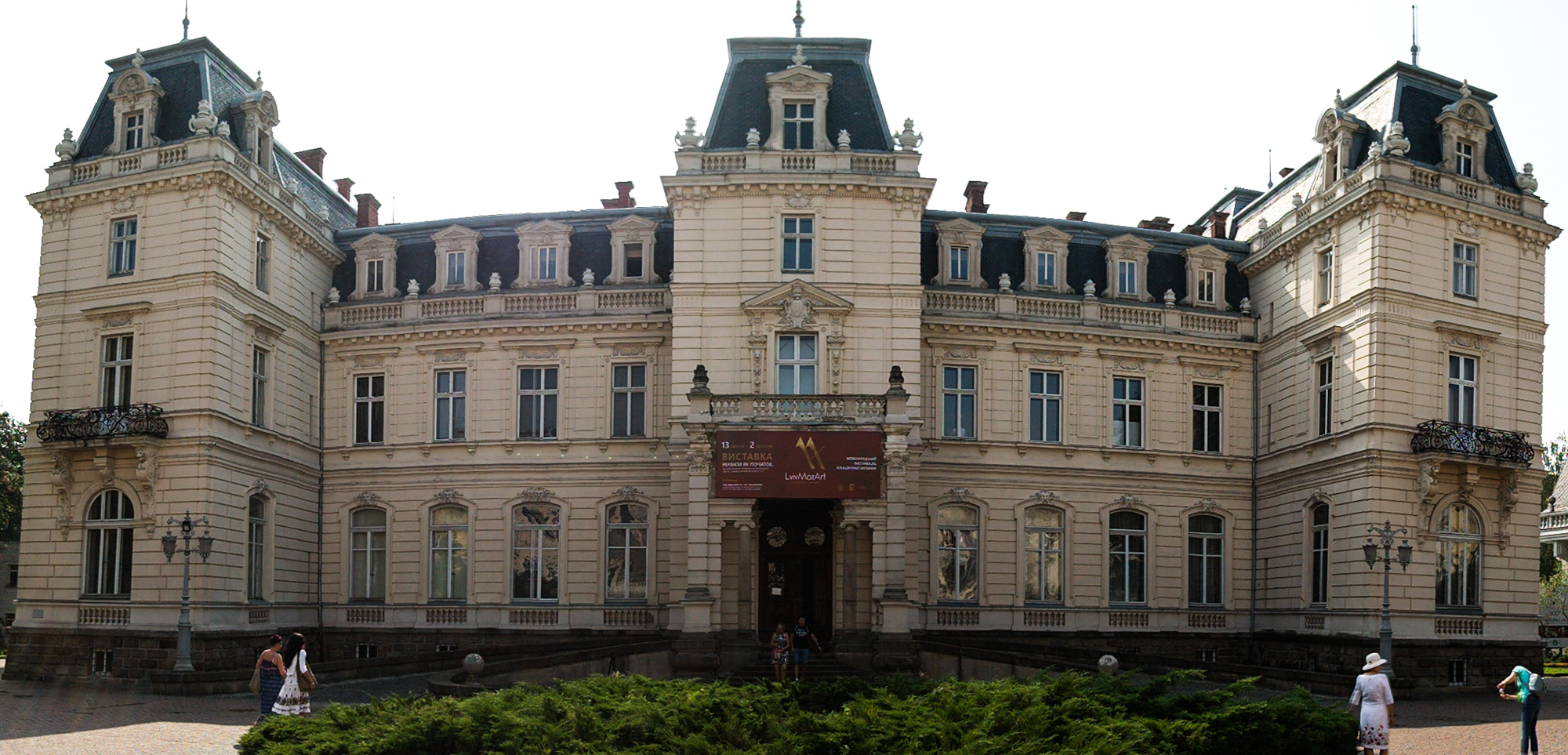 Dim Legend – House of Legends
Imagine a few-story house, where each floor is different, each room is like from a different fairy tale, and there is a car on its roof. Welcome to the House of Legends.
Arsenal. Ribs.
You can get the best ribs in the city in the Arsenal basements. You will not get a fork or a knife here, they will be drawn in front of you on a gray paper, and you will get one large bib to wear. It is not proper to not get dirty. For a portion of ribs and grilled vegetables for 2 people, we paid 326 UAH (10 EUR) + 2 beers for 92 UAH (2.90 EUR).
Lviv Coffee Mining Manufacture
Do you think that coffee beans grow on trees? In Lviv, they are mined from the underground. As a joke, but there is such a thing as the Coffee Mine, where you can taste coffee in Lviv style (with Alcohol), and also go down to the underground stylized on the mine.
Flea Market
In Lviv, you can come across a flea market, where you can hunt for rare and old exhibits or Polish books from the interwar period. For example, at the Teatralny Square, there is the Beekeeping Market.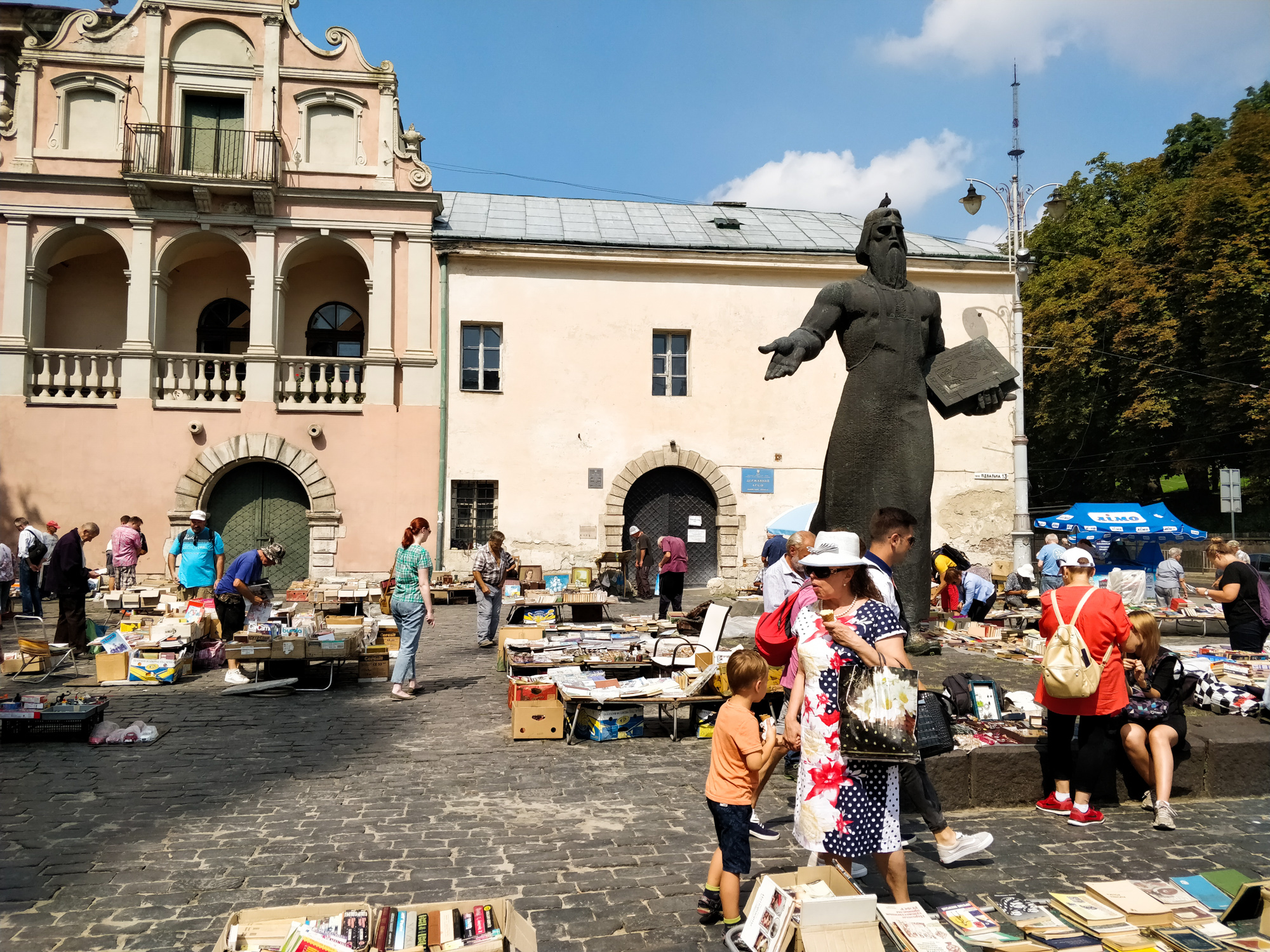 High Castle
High Castle – a hill that dominates Lviv. Once a castle stood here, but during the Third Northern War, it was destroyed by the Swedes. When the Austrians took over the Lviv castle, it was demolished and its bricks were used to build Lviv. Now it is a hill from which you can view the city skyline.
Lviv Handmade Chocolate
Chocolate Factory – is a manufacture of handmade Lviv, traditional chocolate, a shop and a café with a roof terrace.
Drunk Cherry – Pijana Wiśnia
In many places in Lviv (recently also in Warsaw), you can find a place that serves its own cherry liqueur (17.5%) – Drunken Cherry. These premises, although small, have very nice interiors consisting mainly of bottles, and the tables are outside. They are very popular as before party before all events. You will pay 38 UAH for a sour cherry lamp (20 euros).
Gas Lamp
A place dedicated to Ignacy Łukasiewicz and his invention – Gas Lamp. In addition to the decor, the main attraction of the restaurant are tinctures in samples. Unfortunately, most of them did not taste us and we had to drink them with beer.
Baczewski Restaurant
The next day starts with breakfast in one of the most popular restaurants in Lviv – Restaurant Baczewski. Here you can have breakfast in the conservatory, with the sounds of birds and music played live on the piano. As we are already in Baczewski can not miss vodka. Vodka or champagne is served here for breakfast. Breakfasts are served from 8 am, but I advise you to come at least 30 minutes before opening. Otherwise, you will be queuing up and you may not even be able to get inside. If the queue is really big, I advise you to let go of this place and go eg to the Atlas and return to Baczewski for dinner.
Breakfast in the form of a Swedish table costs 130 UAH (4 EUR) per person.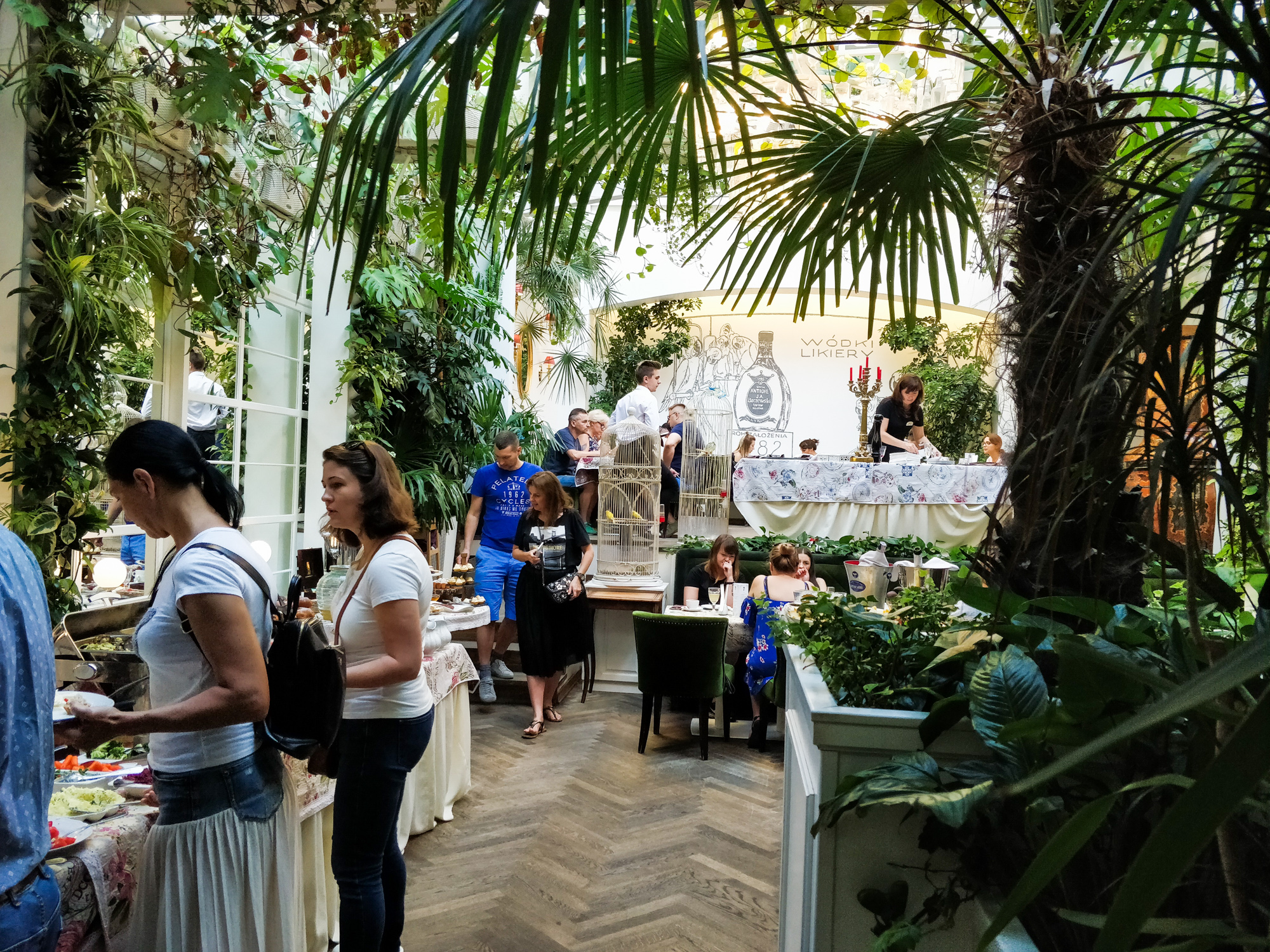 Armenian Cathedral of Lviv
After breakfast, we went to see the Armenian Cathedral dedicated to the Blessed Virgin Mary in Lviv. Lviv as a trading city was a multicultural city, where Armenians also settled, and today we can see their heritage. Unfortunately, for many years the cathedral was devastating and it has been undergoing renovation since 2000.
Opera and Prospect of Svobody
After the cathedral, we came for a moment to the Svobody prospect – the most important and the largest promenade in Lviv between two streets. It starts with Mickiewicz Square, where his monument is located and stretches for about half a kilometer ending at the building of the Lviv Opera.
Once it was a dike place between which the Pełtew river was flowing. Now it flows under the street in the sewers.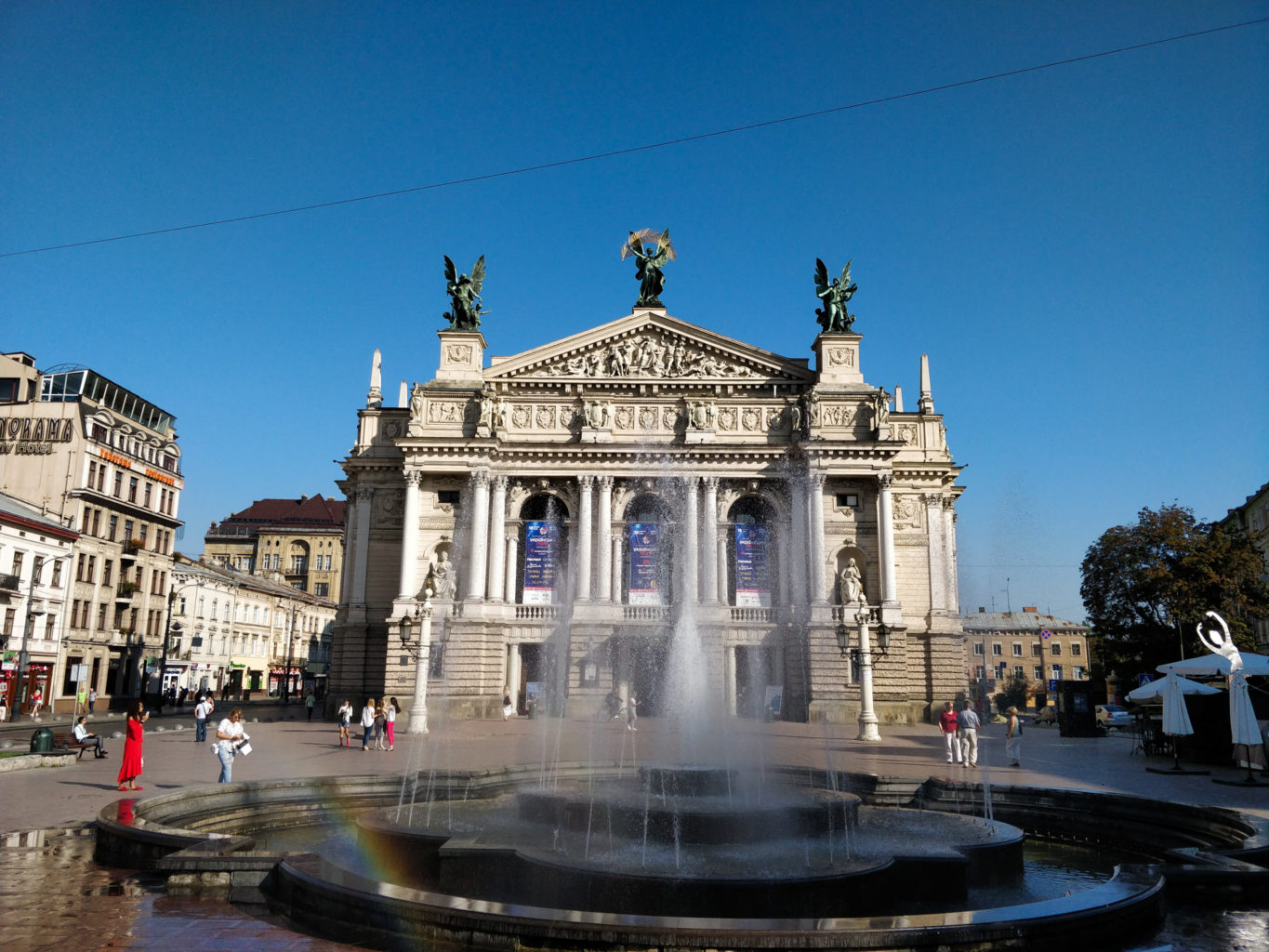 Lychakiv Cemetery and the Cemetery of the Lviv Eaglets
We decided to spend the morning in a place that is probably the main goal of Polish trips to Lviv. The Lychakiv Cemetery is one of the oldest necropolis of the city on which many outstanding Poles are buried (including Maria Konopnicka and Stefan Banach). Some graves create a real art gallery presenting their sculptures.
In the south-eastern part of the cemetery there is a separate, autonomous part of it, the Cemetery of the Lviv Eaglets, where are buried people who died during the fratricidal battles for the city with Ukrainians in the years 1918-1919. It owes its name to the fact that the majority of the fallen are teenagers, high school students in Lviv. The youngest little defender was 9 years old).
In times of the USSR, the cemetery was destroyed. Since 1989 attempts have been made to renovate it, which is interrupted from time to time because the cemetery is a place of a dispute between Ukraine and Poland.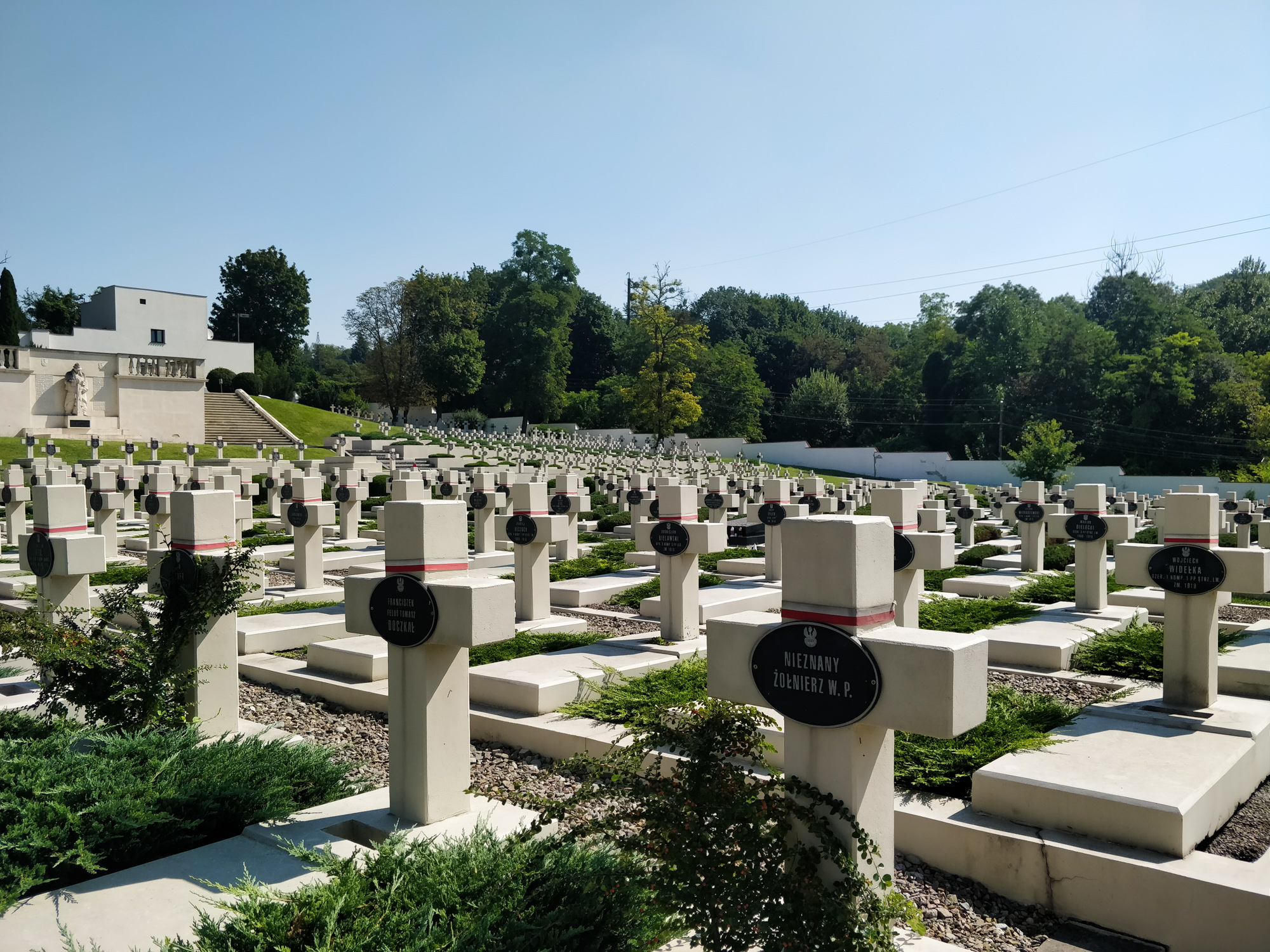 You can read more about the cemetery on the blog: https://roadtripbus.pl/cmentarz-orlat-lwowskich/
The admission ticket to the cemetery now costs 40 hryvnia (1.25 EUR).
Directions: At the entrance to the cemetery can be reached by tram 2 for the price of 5 UAH.
Kryivka – Hideout
A restaurant that has no signboards and if you want to enter it, you have to knock on the door and say the password. When you tell the correct password, the sentry will invite you in and treat you with honey vodka. Now you can go to the underground. The decor and subject matter of the hideout may seem controversial from the point of view of the Pole. Well, it refers to the UPA or Ukrainian insurgent army – a nationalist organization carrying out ethnic cleansing in Małopolska and western Ukraine at the end of the war.
However, if historical weaves are put aside and we treat the subject of the place as a marketing gimmick, in the cellars you can try, among others, Ukrainian borsch, potato pancakes or half-meter sausage. Leaving the hideout is also not easy. You do not go the same way, and you have to go through the basement through a small maze of corridors until you get to the yard, on which stands a sculpture called by me as Ukrainian Transformer. There you can also climb to the roof of the building, where there is a small cannon.
Password to hideout: "Chwała Ukrainie"

Next to the entrance to the hideout, there is "Masonic lodge or the most expensive restaurant in Galicia". A terribly long name. Unfortunately, we did not visit it, but from what I realized itwhen you make a special card, the last zero disappears from the bill, which makes the restaurant no longer so expensive. Without this Card, you must negotiate this price.

Discount Cards
Just Lviv It

In Lviv, there is a discount card, thanks to which for every 10 UAH spent you get 1 UAH discount in many restaurants in the city. We did not get such a card, for a more comprehensive description, please visit the blog:
https://www.kawiarniany.pl/2017/08/26/karta-just-lviv-it-we-lwowie-czy-warto-ja-miec/

Lviv City Card

After our visit to Lviv, a Lviv city card for tourists was opened. The card has 3 variants (24h – 250 UAH, 48 hours – 350 UAH, 72 hours – 450 UAH). It entitles to free electric public transport (trams and trolleybuses), free admission to the town hall and its tower, admission to several museums and to the Lychakiv cemetery. And discounts 10-20% in various cafes.
You can read more about the city card here:
https://www.kawiarniany.pl/2018/09/27/we-lwowie-ruszyl-projekt-lviv-city-card-dla-turystow-komunikacja-miejska-i-bilety-za-darmo/
Costs
153 EUR – Plane tickets (4 tickets – Waw – LWO)
(1280 UAH / 40 EUR) – Hostel (2 nights in a double room)
(222 UAH/ 7 EUR) – Transport 95 I 107 UAH (Uber from the airport and to the airport) + 20 UAH tram to the cemetery
(3060 UAH / 95 EUR) – Food / Entertaining / Holiday Gifts
In total, we spent 295 euros for a weekend in Lviv
Other Travels
Are you looking for inspiration for a city-break in another country? See my list of weekend trips.
See also my other posts from further and closer travels. Link